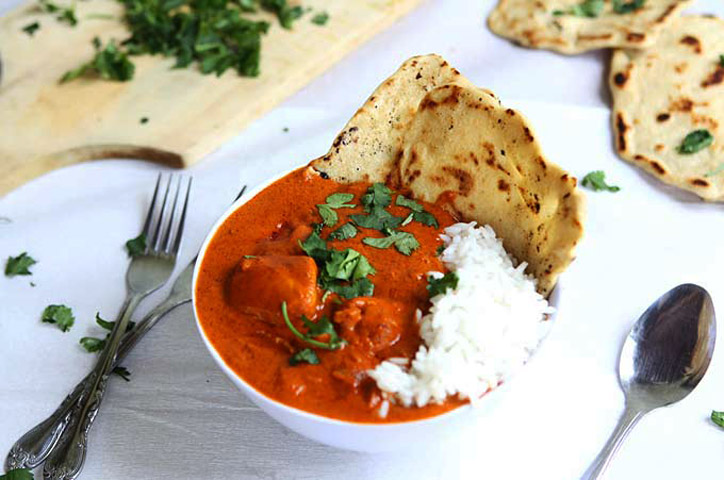 Indian Butter Chicken Recipe
This Indian Butter Chicken recipe is similar to chicken tikka masala, but maybe even better! If you like butter chicken, you will love this recipe!
PREP TIME:  10 mins      COOK TIME:  20 mins        TOTAL TIME:  30 mins
Ingredients
6 tablespoons butter, divided
2 lbs chicken breasts, cut into 1″ chunks
1 yellow onion, diced
3 garlic cloves, minced
3 tsp garam masala
1 Tbsp fresh grated ginger
1 tsp chili powder
1 tsp ground cumin
½ tsp cayenne pepper
1½ cups tomato sauce (or one 14 oz can would work)
2 cups cream
salt & pepper
lime & cilantro, for garnish
naan & rice for serving
Instructions
Using 2 Tbsp of butter in a large skillet over medium-high heat, brown the pieces of the chicken so each side is browned. They do not need to be fully cooked all the way through. Work in batches, and set aside when you're done.
Melt another 2 Tbsp of butter in the pan over medium heat. Add the onion, and cook until beginning to soften — about three minutes. Add the garlic, garam masala, ginger, chili powder, cumin, and cayenne. Stir to combine, and cook for about 45 seconds before adding the tomato sauce.
Bring the mixture to a simmer and let cook for five minutes before adding the cream. Bring the mixture back to a simmer, add the browned chicken, and let simmer for 10-15 minutes. Keep the heat low here — not a rolling boil — and feel free to cook longer (you may need to add more liquid) for more tender chicken.
Stir in the remaining 2 Tbsp of butter, and season with salt and pepper, to taste.
Serve garnished with lime and cilantro, alongside rice and naan.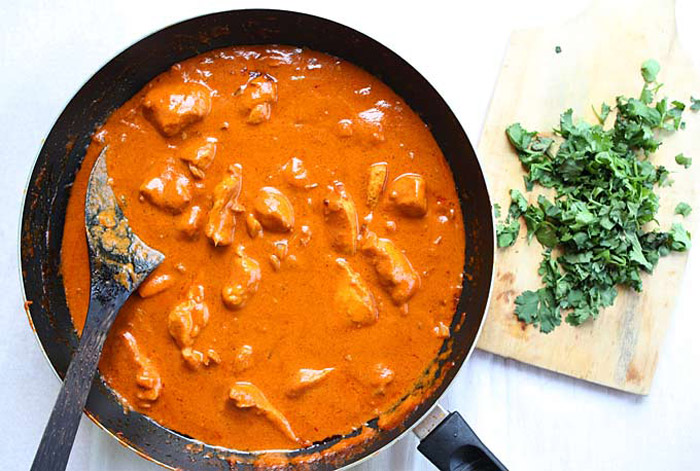 Source thekitchenpaper.com