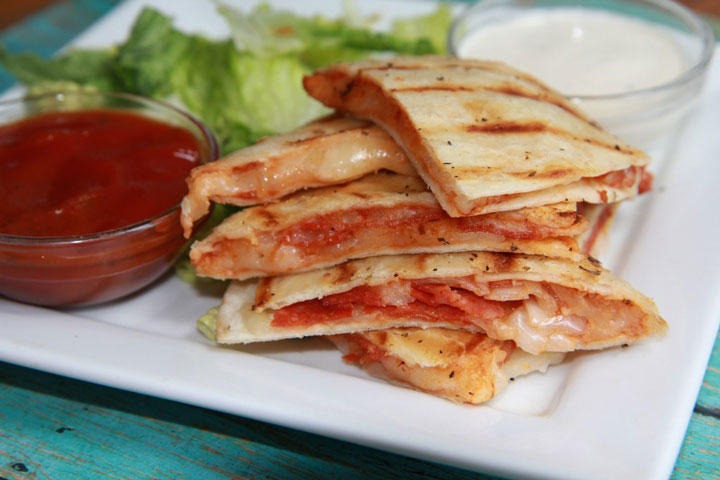 Pepperoni Pizza Quesadillas
These cheesy tortillas tasted exactly like fresh oven-baked pizza, but required less than 10 minutes to make. Plus, they were way more fun because we got to dip them in the pizza sauce. The key ingredient to making them so mouth-watering was pan-fried high-quality pepperoni to give each bite the crispy texture reminiscent of real pizza.
Ingredients:
8 flour tortillas (I used Trader Joe's handmade tortillas)
8 ounces of shredded mozzarella cheese
⅓ lb pepperoni
1 16-ounce jar of pizza sauce
Optional: 1 6-ounce can of sliced black olives, 1 cup of sliced cremini mushrooms
Directions:
Heat a medium skillet over medium heat and fry the pepperoni until crisp.
Transfer on a paper towel to drain.
Brush each tortilla with a thin layer of pizza sauce (so thin that if you turned it over, none would drip).
Sprinkle cheese on top of the sauce on the bottom tortilla. Top with pepperoni and other toppings, if desired. Sprinkle with another layer of cheese and place the other tortilla on top (sauce side in).
Pre-heat a medium cast-iron skilled over medium heat.
Lay quesadilla in the pan and cook for 3-5 minutes on each side, until cheese is melted and tortillas are crispy.
Slice into quarters and serve with a little bowl of pizza dipping sauce.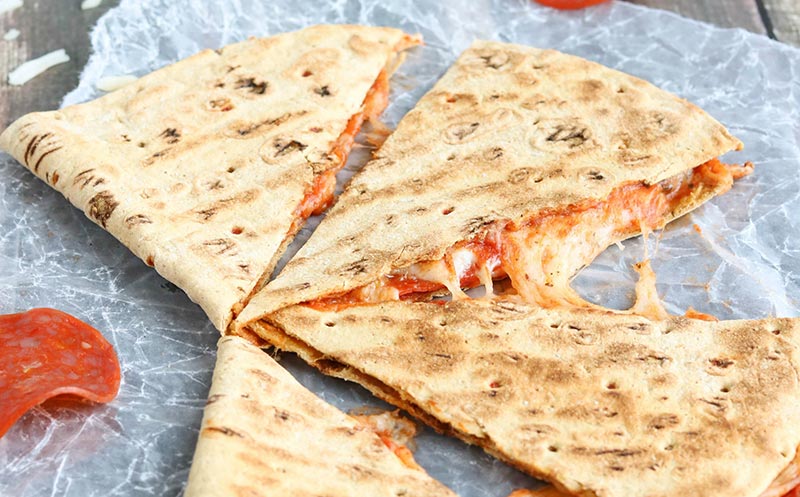 Source snixykitchen.com