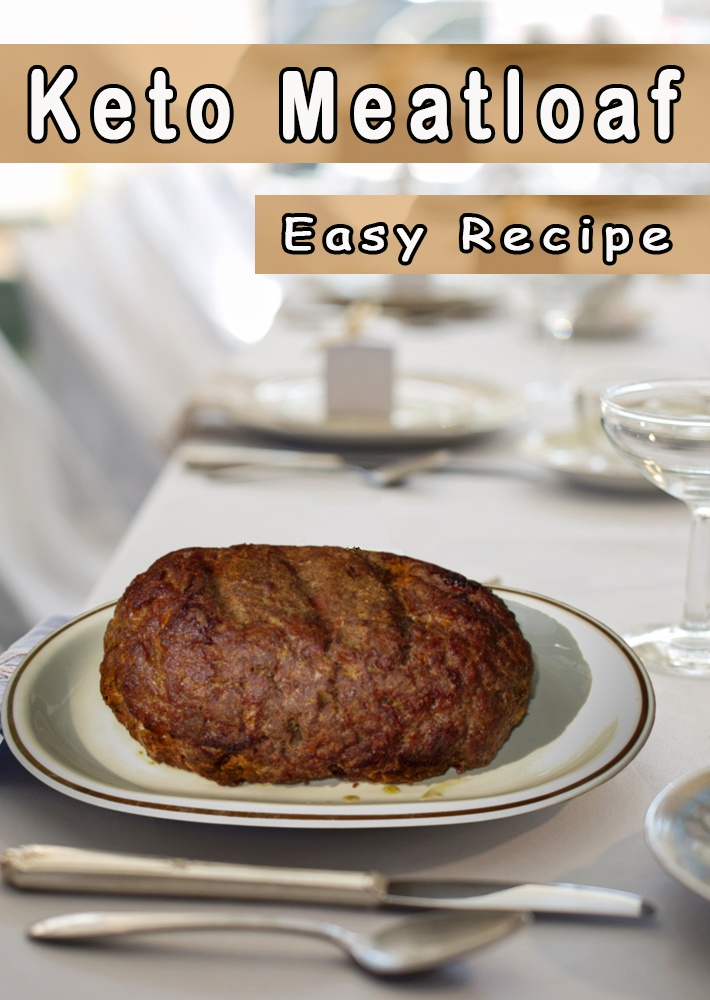 This Keto Meatloaf is so easy and so good. Look no further for the best Keto Meatloaf recipe because it's right here! I will absolutely use this recipe again!
Keto Meatloaf Easy Recipe is definitely easy to make. This recipe is fantastic I made this for dinner last night, there was none left and everyone loved it! I did not make the glaze I like it better without it, the meatloaf was very tasty. You owe it to yourself and family to try this Keto Meatloaf recipe!
Prep Time: 15 minutes Cook Time: 40 minutes Total Time: 55 minutes Servings: 6
Instructions for Keto Meatloaf:
1.5 pounds meatloaf mix
1 egg, beaten
2 tbsp chopped parsley
1 cup pork rinds, crushed
2 tbsp yellow onion, diced
1 clove garlic, chopped
1/2 tsp thyme
1/4 cup grated parmesan cheese
1 tbsp extra virgin olive oil
1/3 cup heavy whipping cream
1/2 tsp salt
1 tsp dijon mustard
1 tsp hot sauce
1/4 tsp pepper
2 tbsp tomato paste
1 tbsp apple cider vinegar
1/4 tsp granulated erithrytol (or similar sugar substitute)
Instructions:
Preheat oven to 375 degrees
Heat olive oil over medium high heat in small skillet.
Add onions, thyme and garlic and cook until fragrant, taking care not to burn. Set aside and allow to cool.
In a large bowl, combine ground meat mix, salt and pepper, egg, pork rinds, parmesan, parsley, mustard, hot sauce and whipping cream. Add in onion mixture. Combine with your hands until all ingredients are incorporated. At this point the mix should be sticky but combined.
Pat the mix into a free form loaf shape. Place on baking sheet (I top mine with a sheet of tin foil to simplify cleanup).
Combine tomato paste, vinegar and sweetener until thoroughly incorporated. Using a pastry brush, top the meatloaf to create a glaze. (I did not make the glaze, but it was delicious)
Bake for 40 minutes or until the internal temp of the meatloaf reads 160 degrees. Serve and enjoy!
Nutritional Information:
6 servings, nutrition per serving:
398 calories, 30.5 grams fat, 3.1 grams carbohydrate, .4 grams fiber (2.7 grams net carbohydrate), 36.2 grams protein.
 

NUTRITIONAL DISCLAIMER

Please note that I am not a medical or nutritional professional. I am simply recounting and sharing my own experiences on this blog. Nothing I express here should be taken as medical advice and you should consult with your doctor before starting any diet or exercise program. I provide nutritional information for my recipes simply as a courtesy to my readers. It is calculated using MacGourmet software and I remove erythritol from the final carb count and net carb count, as it does not affect my own blood glucose levels. I do my best to be as accurate as possible but you should independently calculate nutritional information on your own before relying on them. I expressly disclaim any and all liability of any kind with respect to any act or omission wholly or in part in reliance on anything contained in this website.
Please follow us on Facebook Page and enjoy our collection of recipes, crafts, fitness, health tips, gardening, DIY and more…
Recipe by Rebecca H.