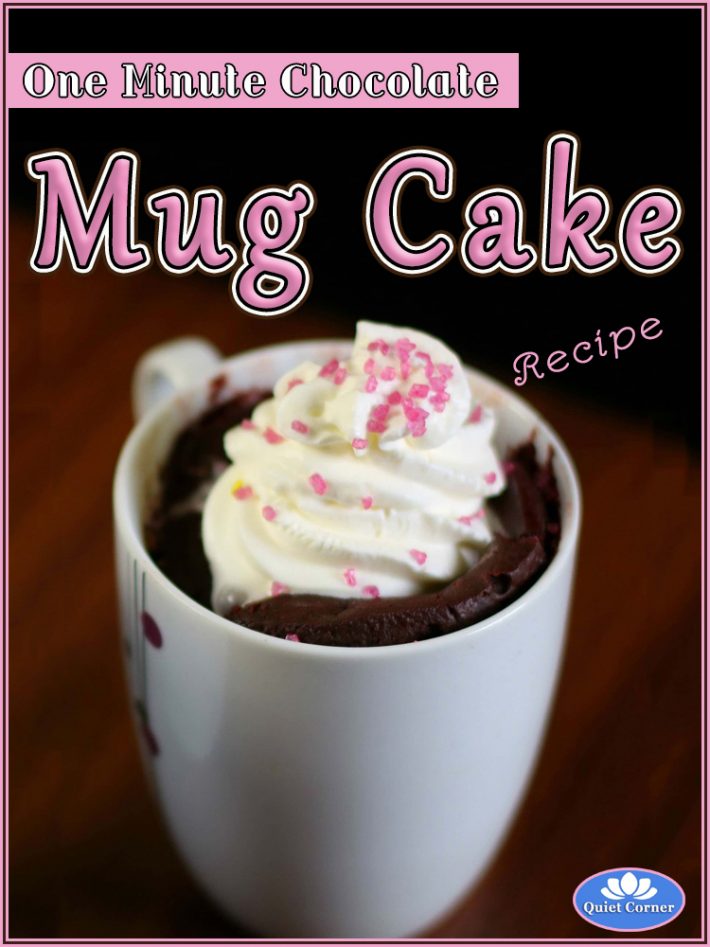 One Minute Chocolate Mug Cake is extremely easy to make in one small bowl without a mixer. It's ready in one minute 😉 People say this One Minute Chocolate Mug Cake is the best mug cake they've ever tried… and i must agree. It can even be made in the microwave!
This chocolaty fudgy treat is truly decadent and great for nights when I need a yummy dessert that is ready in less than 5 minutes!
Feel free to change up the flavor by adding shredded coconut, chopped walnuts, mini chocolate chips, or a few drops of pure peppermint extract to the batter. And you can frost the cake however you wish.
One Minute Chocolate Mug Cake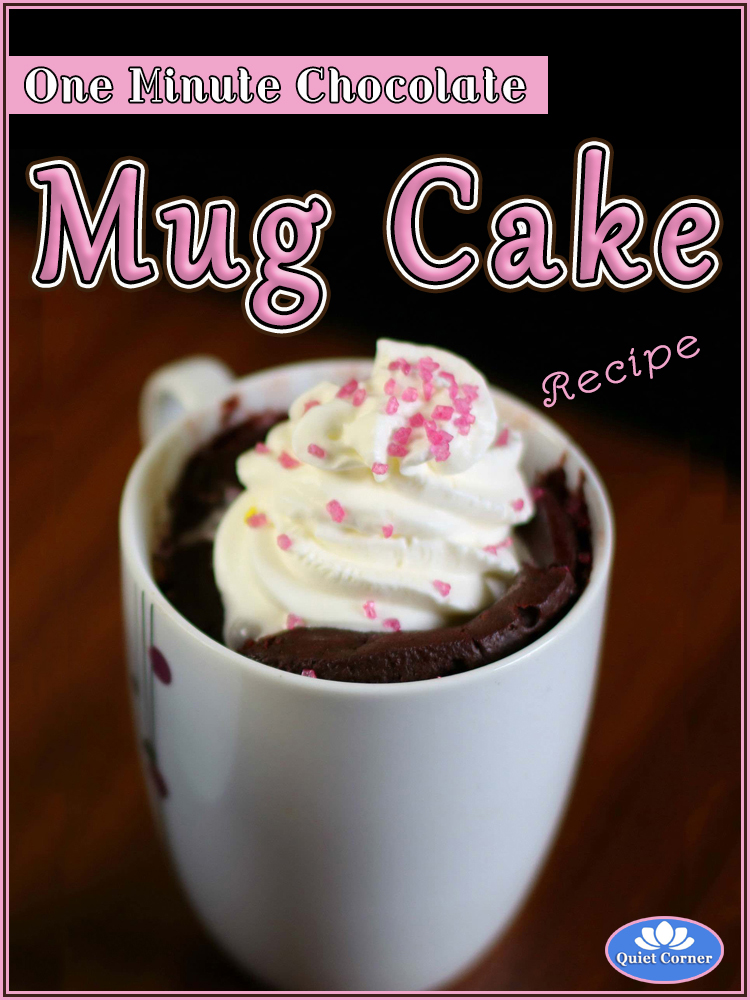 One Minute Chocolate Mug Cake
People say this One Minute Chocolate Mug Cake is the best mug cake they've ever tried… and i must agree.
Ingredients
1

tbsp+2 tsp

cocoa powder

3

tbsp

flour

or spelt or gluten free flour

1/8

tsp

salt

2

tbsp

sugar

or xylitol for sugar-free

1/4

tsp

baking powder

2-3

tsp

coconut or vegetable oil

3

tbsp

milk of choice, such as almond milk

1/2

tsp

pure vanilla extract
Instructions
Combine dry ingredients and mix very, very well.

Add liquid, stir, then transfer to a little dish, ramekin, or even a coffee mug.

Either microwave 30-40 sec. or cook in a 350F oven for about 14 minutes
Notes
Microwave power varies slightly, so you may want to experiment with the cooking time, give or take 5-10 seconds.
If you don't want to eat it straight out of the dish, be sure to spray your dish first (and then wait for it to cool before trying to remove it).
What makes this mug cake "The One"
I was never a fan of mug cakes because all of the versions I've tried have turned out rubbery and just not at all delightful. Until I found this recipe, which for me is "the one." This is why I like it:
It's not very sweet. (If you want it sweeter, add more sugar or some chocolate chips.)
It's small. Other recipes I've tried have just been too big and they make me feel like I just over indulged. This one is just a few, rich, delightful bites.
There is no egg. I find that eggs make mug cakes rubbery or spongey and they also mean that you can't scale the recipe in size. If you want a small cake, you can't just split an egg in half, right?
There are a lot of variations. Add chocolate chips, use nutella, jam, or caramel sauce in place of the peanut butter, vegan-ize it by using soy milk in place of cow's milk… lots of options.
Nutrition Facts
Calories: 180
Fat: 8g
Carbs: 28g
Cholesterol: 0mg
Sodium: 290mg
Fiber: 6.5g
Sugar: 8g
Protein: 5.5g
Iron: 12%
If you love quick and easy recipes, check out these too:
If you love this One Minute Chocolate Mug Cake recipe as much as I do, please give it a five star review and help me share this recipe on facebook!
Please follow us on Facebook Page and enjoy our collection of recipes, crafts, fitness, health tips, gardening, DIY and more…
Source: chocolatecoveredkatie.com