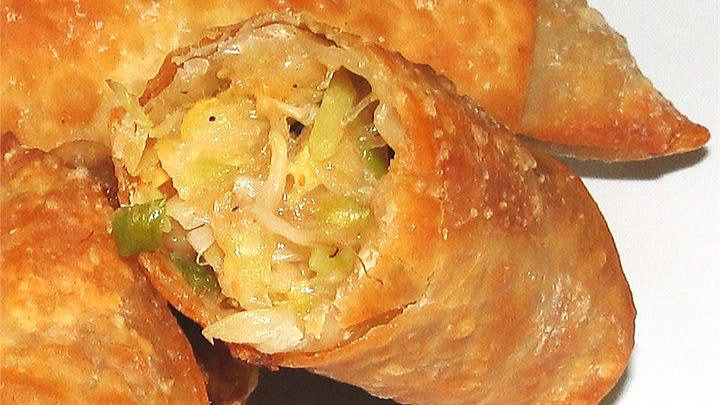 Egg Rolls Recipe
How to make Crispy Homemade Egg Rolls! This egg roll recipe is easy and delicious filled with shrimps & veggies!
Ingredients:
6 cups cabbage, shredded
1 carrot, shredded
1/2 cup fresh bean sprouts
1 celery stalk, diced
2 tablespoons chopped onion (optional)
1 (4 ounce) can shrimp, drained
2 tablespoons soy sauce
1/8 teaspoon garlic powder
black pepper to taste
1 egg, beaten
cornstarch
20 egg roll wrappers
vegetable oil for frying
Directions:
In a large bowl, mix together cabbage, carrots, sprouts, celery, and onion. Stir in shrimp, soy sauce, garlic powder, and black pepper.

Pour beaten egg into a skillet placed over medium heat; cook flat and thin, flipping once, until done. Remove from skillet, cool, and chop finely. Stir egg into cabbage mixture. Sprinkle top with cornstarch, mix, and allow to sit 10 minutes.

Mix 1 tablespoon cornstarch with 2 tablespoons cold water. Set aside.

Place 2 or 3 tablespoons of the shrimp mixture into the center of an egg roll skin. Dip a spoon into the water and cornstarch mixture, and moisten all corners but the bottom corner. Fold the egg roll skin from the bottom over the mixture, making a tight tube of the shrimp mixture. Fold corners in from the sides, and press to stick against folded roll. Then roll the rest of the way. Repeat with remaining egg roll wrappers.

Pour vegetable oil into a deep frying pan to a depth of 3 or 4 inches, and heat oil to 350 degrees F (175 degrees C). Carefully place egg rolls into hot oil, and fry until golden brown. Remove to paper towels.