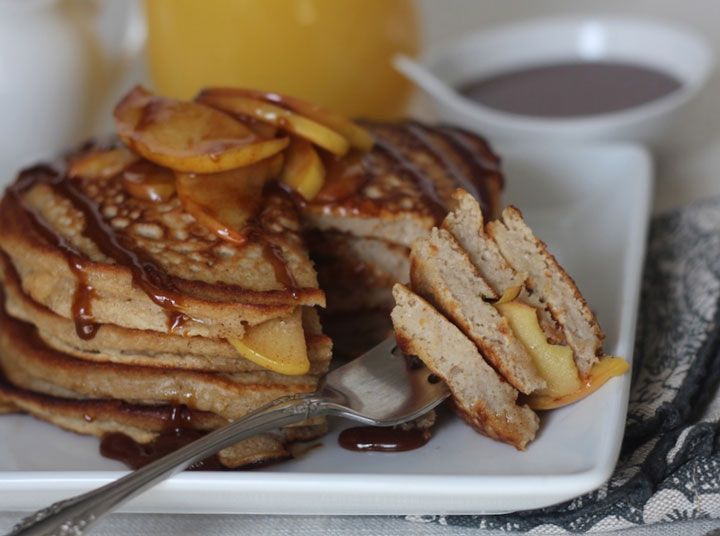 Caramel Apple Pancakes for the perfect breakfast
Prep time: 30 mins      Cook time:  20 mins      Total time:  50 mins
Ingredients:
Primal Palate's Soft Caramel (for garnish – optional)
1 tablespoon butter (or coconut oil)
1 medium apple, thinly sliced (I used gala, but use any kind)
1 tablespoon maple syrup
½ teaspoon cinnamon
3 eggs, whisked
½ – 1 cup almond milk*
1 tablespoon honey
1 teaspoon vanilla extract
½ cup coconut flour
½ cup tapioca flour
½ teaspoon baking powder
½ teaspoon baking soda
pinch of salt
butter or coconut oil, for greasing pan
Instructions:
1. If making the caramel for the pancakes, make the caramel first from Primal Palate.
2. Once caramel has begun to bubble and cook down, place a medium sized sauté pan over medium heat. Add butter and apples, along with maple syrup and cinnamon. Add a pinch of salt then mix to coat the apples. Cook for less than 5 minutes, until soft. Remove from pan and set aside.
3.Clean out the pan with a paper towel.
4. Mix together batter: in a large bowl, add eggs, almond milk, honey, and vanilla extract and whisk together. Then add coconut flour, tapioca flour, baking powder, and baking soda, along with a pinch of salt. Mix well. *If the batter seems thick, add a bit more almond milk until the batter is creamy and smooth.
5. Now place the sauté pan over medium heat. Grease the pan with butter or coconut oil. Use a ladle to pour a pancake onto the pan surface, smoothing out the top to spread it out. Then place 5-6 apple slices onto the top of the pancake. Cook for 3-4 minutes per side. Repeat with the rest of the batter and apples, leaving some apples to garnish pancakes. My batter made five 5″ pancakes.
6. Top pancakes with caramel sauce, leftover apple slices, and even maple syrup (if you'd like).
Source paleomg.com