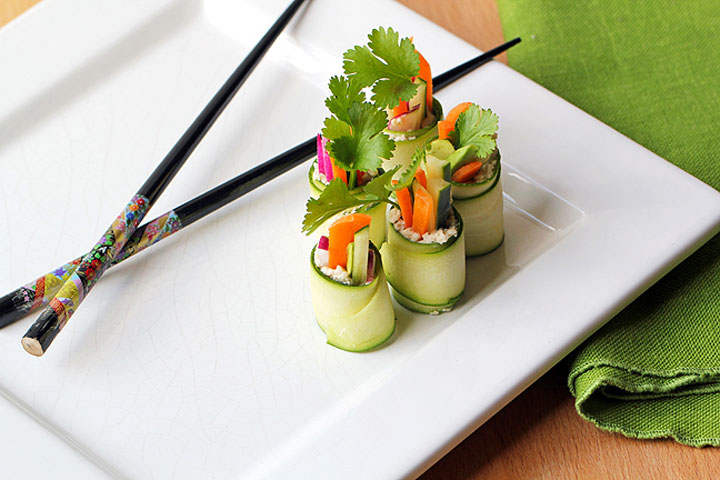 Raw Zucchini Sushi Rolls Recipe
These Raw Zucchini Sushi Rolls are easy to whip and taste delicious. When you're making traditional sushi rolls, you'll use a large strip of nori, roll up your ingredients, and then cut the roll into your individual sushi pieces. The fun part of using zucchini is that it makes individual rolls and is much easier to handle, especially if you're new to sushi-making. Soaked and blended cashew are the perfect substitute for rice and you can use any fresh veggies and herbs of your choice in the rolls. Serve with Nama Shoyu or your favorite dipping sauce. Since zucchini is in season and incredibly abundant right now, it was time to find a new way to enjoy it.
Ingredients:
½ cup cashews, soaked overnight in water
1 Tablespoon rice vinegar (optional)
3 – 4 zucchini (each yields 6 – 8 slices)
2 carrots, sliced into matchsticks
1 cucumber, seeds removed and sliced into matchsticks
4 medium radishes, sliced
1 avocado, peeled and sliced
1 small bunch cilantro
. Instructions:
Drain cashews and put into food processor with rice vinegar.
Process, scraping sides with spatula if necessary, until cashews are a soft paste but still have some texture. (Depending on how long cashews were soaked you might need to add a tablespoon of water to get the right consistency.)
Chop the ends off of your zucchini and use a vegetable peeler to peel your zucchini into long, thin strips.
Lay zucchini strip flat and add a small spoonful of cashew mixture onto one of the ends of zucchini.
Add a few matchsticks of veggies, avocado, and a couple of pieces of cilantro.
Roll up and enjoy!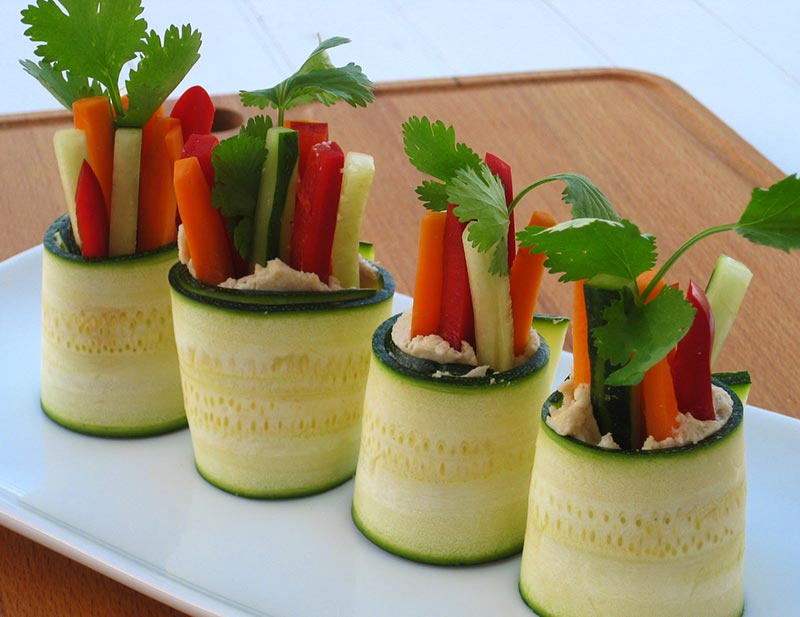 Source yummly.com