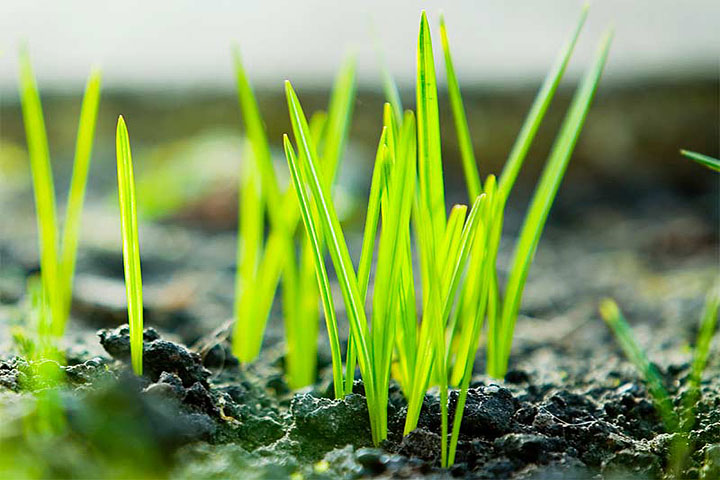 No one wants bare spots in their lawn. They're unsightly and may indicate bigger problems. Unless repaired, bare spots may continue to grow. Repairing a bare spot is a simple job you can do yourself.
Causes of Bare Spots in the Lawn
Bare spots in your lawn can be the result of heavy foot traffic (causing soil compaction), drought, disease, chemical burn and weed or insect infestation. Before beginning repairs, you need to determine the source of your problem. This will help you prevent it from continuing.




If heavy foot traffic is the cause, look for a way to keep traffic off of that area. This may include installing stepping stones, a gravel pathway or a barrier that would reroute traffic and protect that area of your lawn.
If insects or disease are the cause, determine the specific cause. Most treatments will need to be applied and allowed to work before you can grow new grass. The treatment product instructions will tell you how long to wait before sowing new seed.
Grass Planting Options and Methods
Once you have addressed the cause of the bare spots, it's time to repair the damage. In most areas, the best solution is to replant the bare spot with new grass. There are several options:
You can apply grass seed and fertilizer separately. Spread straw as a mulch after planting the grass seed to help keep it moist and safe from birds.
Lawn patch products combine grass seed, fertilizer and mulch blends in one bag.
Seed germination blankets made from wood fiber keep seeds and soil in place for erosion control.
Where available, sod is an option. Since it is alive, keep it moist until you're able to install it. Make sure the sod makes good contact with the prepared soil bed.
Late spring is the best time to plant and repair bare spots in warm season grasses. Early fall is the best time to repair bare spots in cool season grasses.
Caution
When using lawn treatments or lawn care products, always follow package directions regarding proper clothing, protective equipment, application procedures and safety precautions.
Repairing Bare Spots
Dig up the area to a 6-in. depth, breaking up the clumps. (If the problem was caused by a spilled chemical such as gasoline or an herbicide, remove several inches of surface soil.)
Mix in topsoil to improve soil quality and help new sod or grass seed get off to a good start.
Rake and tamp to firm and level the surface to the surrounding lawn.
Apply the lawn product (whichever method you chose from the list above).
Water the area well.
Once you have made the repairs, follow these steps. While you may not be able to prevent bare spots completely, you can keep your lawn as healthy and green as possible.




Using a fine spray from a hose, keep the soil moist, but not drenched. Preventing the soil from drying out allows the roots from the grass seed to enter the soil.
Once the grass is established and growing well, fertilize it with a general lawn fertilizer and begin mowing the patch with the rest of the lawn.
Monitor the area closely during the first year.
Caution
Before beginning any excavation, call 811 to check for underground utilities.
Related: Common Lawn Weeds – How to Handle them
Source: lowes.com