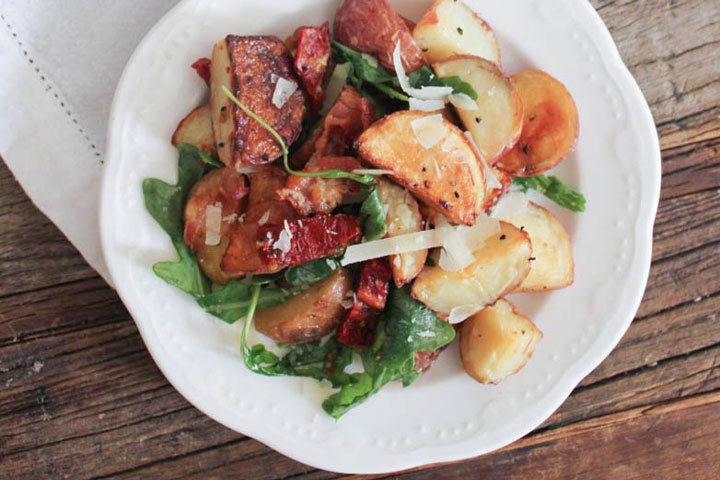 Roasted Potato Salad with Pancetta, Sun-Dried Tomatoes and Arugula Recipe
Yield: 4-6 servings
Ingredients:
2 pounds baby red potatoes
2½ tablespoons olive oil
Kosher salt
Fresh ground pepper
1/3 pound thinly sliced pancetta
6-8 sun-dried tomatoes in extra virgin olive oil, drained and chopped
1 clove garlic, minced
1½ teaspoons Dijon mustard
1 tablespoon plus 1 teaspoon red wine vinegar
3½ tablespoons olive oil from the sun-dried tomato jar
2 cups loosely packed baby arugula
¼ cup shaved Parmesan cheese
Instructions:
Pre-heat your oven to 400 degrees. Line a large baking sheet with parchment (or two smaller ones) and set aside.
Scrub your potatoes really well (make sure to get off all the dirt!), and quarter them so they're in roughly 1-inch pieces. (Smaller potatoes can be cut in half, and if you have any HUGE ones, you may need to cut those into eighths. Just make sure all the potatoes are about the same size.)
Arrange the potatoes in a single layer on the prepared baking sheet(s). Drizzle with olive oil and season with kosher salt and fresh ground pepper. Toss to coat. Transfer the potatoes to the oven and roast for 30-35 minutes, stirring once halfway through, until browned and tender. Let those babies cool for about 5 minutes.
While the potatoes are roasting, cook the pancetta. Heat a large skillet over medium-high heat. When hot, add the pancetta and cook for about 4 minutes until well browned and crispy. Transfer to a paper towel lined plate to drain. When cool, crumble pancetta into large pieces.
Moving on to the dressing! In a small bowl, whisk together the garlic, mustard, red wine vinegar, and that awesome sun-dried tomato infused olive oil until smooth. Season with salt and fresh ground pepper to taste.
Place the warm potatoes in a large bowl with the crumbled pancetta, chopped sundried tomatoes, and arugula. Drizzle with the dressing and toss to coat.
Transfer potato salad to a serving dish or platter (yes, you can leave it in the mixing bowl if you must), and top with shaved Parmesan cheese. Serve immediately.
Source domesticate-me.com