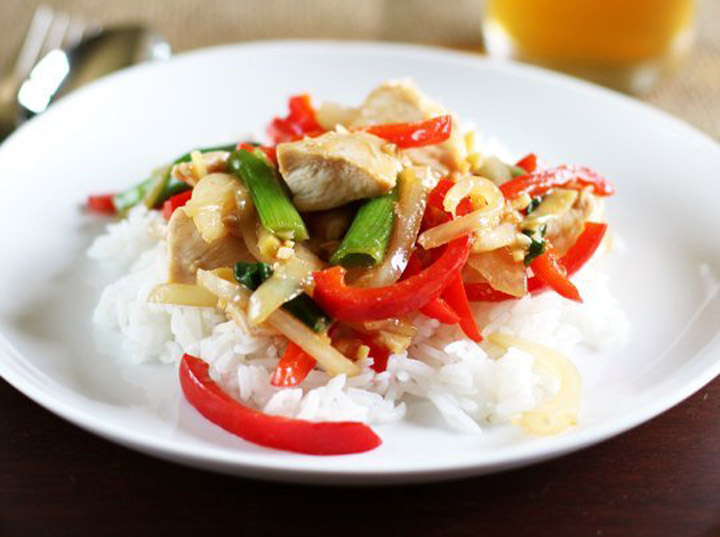 Thai Ginger Chicken Stir-Fry recipe
This gingery chicken stir-fry is home cooking at its best: quick and simple to prepare, with a punch of flavor that manages to be both exciting and deeply comforting. Make it once and you might never call for Thai takeout again.
Serves: 2
Ingredients:
2 tablespoons fish sauce
1 tablespoon oyster sauce (see Recipe Notes)
1 teaspoon sugar
2 tablespoons grapeseed, canola, or other high-heat oil
8 ounces boneless, skinless chicken breast or thigh, cut into bite-size pieces (about 1/4-inch thick)
2 cloves garlic, minced
2 green onions, ends trimmed, cut crosswise into 1-inch pieces
1 cup thinly sliced red bell pepper (from about 1 small pepper)
1/2 cup thinly sliced onion (from about 1/2 small onion)
2 tablespoons fresh ginger, cut into matchstick-size pieces
Cooked white rice or brown rice, for serving
Instructions:
In a small bowl, mix together the fish sauce, oyster sauce, and sugar. Keep near the stove, along with the chicken and vegetables.
Heat a wok or large skillet over high heat until very hot. Add the oil and swirl the pan to coat the bottom. Add the chicken in an even layer and sear, undisturbed, for about 1 minute. Add garlic, stir, and continue cooking for 1 minute, stirring constantly. Chicken will be lightly browned, but not cooked through. Add the green onions, bell pepper, onions, ginger, and sauce. Stir-fry for 2 to 3 minutes, until the chicken is cooked through and the bell peppers and onions are crisp-tender. Serve immediately, with plain white or brown rice.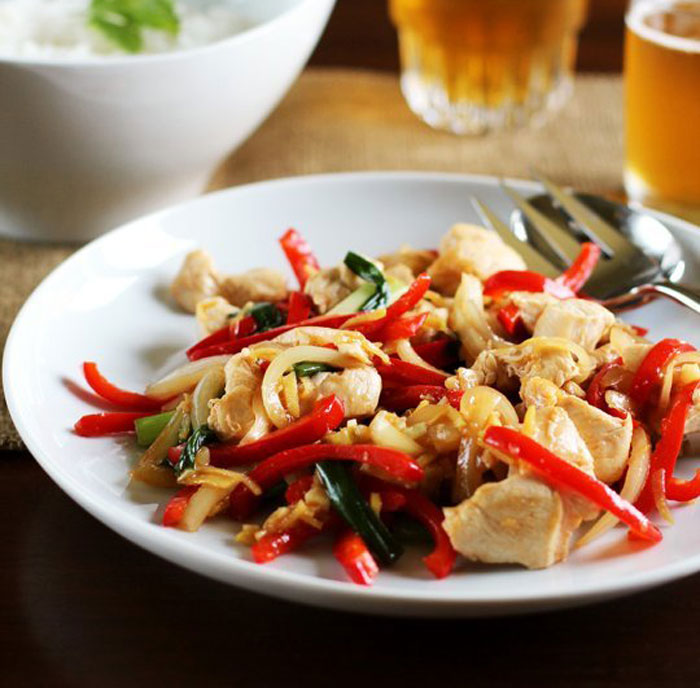 Source thekitchn.com