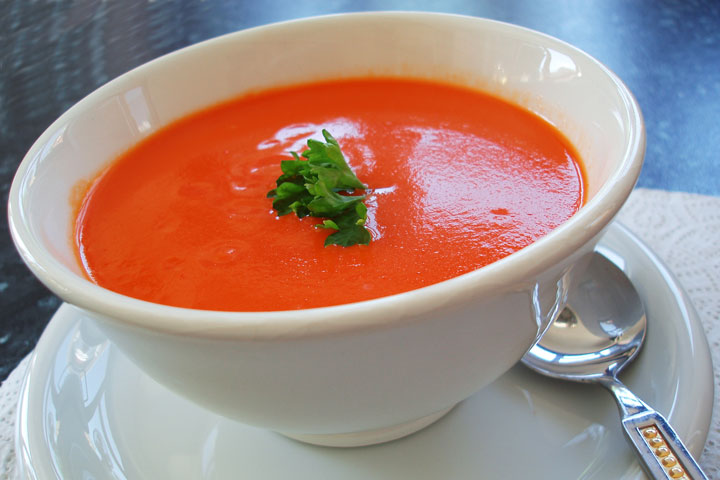 Roasted Red Pepper and Tomato Soup Recipe
Red pepper and tomato are the perfect foodie combination in this classic soup recipe. We love the warm flavour of the roasted peppers against the tomatoes – simple to prepare and easy to enjoy this soup is a crowd-pleaser for sure. Use the biggest red peppers you can find. Not only are they extra juicy but they'll go a little bit further in creating the perfect base of flavour. This recipe serves 4 people and will take around 2hrs to prepare and make – it is well worth the wait!
Ingredients:
4 large red peppers
4 garlic cloves, unpeeled
1tsp dried oregano
4tbsp olive oil
1 large red onion, peeled and chopped
6 large tomatoes, peeled
850ml (1½ pt) vegetable stock
1tsp sugar
Half a packet fresh basil leaves
2 small ciabatta loaves, baked according to packet instructions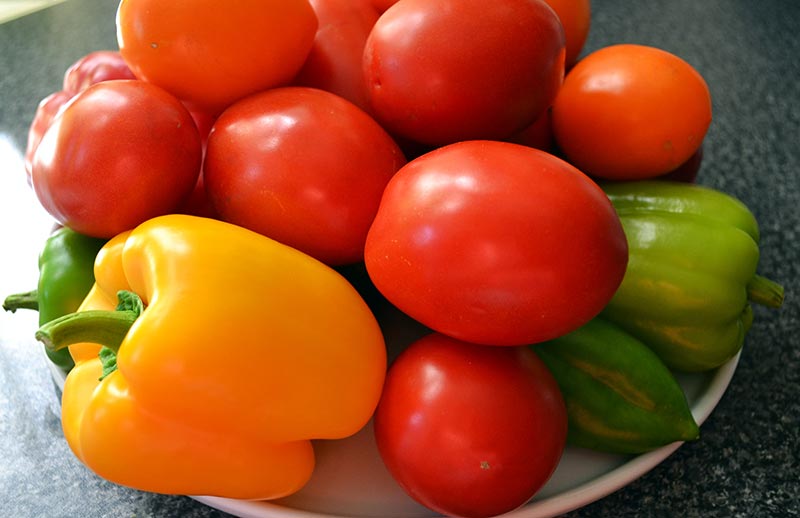 If you fancy making delicious pesto croutes to add as a topping, you'll need:
30g (1oz) fresh parsley and chives
2 cloves garlic, peeled and crushed
1 tbsp toasted pine nuts
30g (1oz) grated Parmesan
6 tbsp olive oil
60g (2oz) mature Cheddar grated
1 small Ciabatta loaf cut into 12 slices
Method:
Preheat the oven to 200°C (400°F, gas mark 6). Place the peppers and garlic on a baking tray, sprinkle with oregano and 1tbsp olive oil. Roast for 30-35 mins until the pepper skins are blistered. Place the hot peppers in a plastic bag. When cold, peel and chop the flesh, discarding the seeds.
Heat 1tbsp olive oil in a large pan and fry the onion for 10 mins until softened. Chop the tomatoes, discarding the seeds and add to the pan with the peppers, stock, sugar and a few basil leaves. Squeeze the soft cooked garlic from the cloves and add to the pan. Simmer for 30 mins.
Slice the ciabatta into four and brush with the remaining olive oil. Chop the basil (keeping a few leaves for garnish) and sprinkle over the bread. Season and lightly grill. Whizz the soup in a food processor then reheat. Garnish with basil leaves and black pepper and serve with the toasts.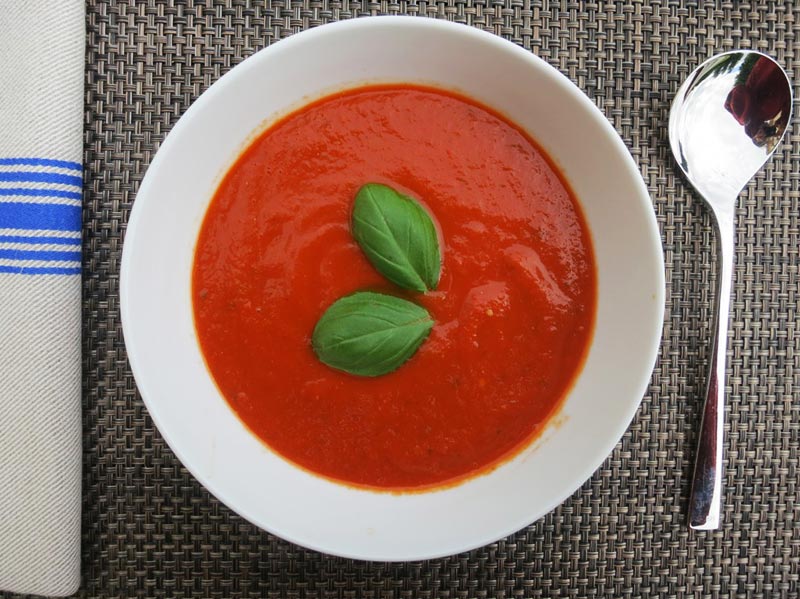 Source goodtoknow.co.uk