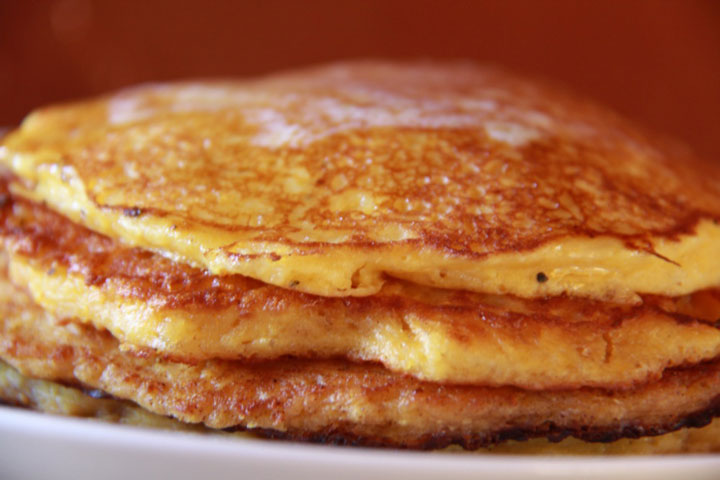 Spaghetti Squash Pancakes Recipe
A fun, tasty way to use up leftover spaghetti squash is to make these Spaghetti Squash Pancakes.
Ingredients:
1 medium sized spaghetti squash , cut length-wise in half, inside cleaned
1 chile pepper in adobo sauce (finely chopped)
1 t garlic chili sauce
1 t fresh thyme
½ cup Monterey jack cheese, shredded
1T stone ground mustard
6 T all-purpose flour
3 t potato starch
1 1/2t salt
¾ t baking powder
½ t ground black pepper
2t garam masala
1t paprika
3 t finely grated peeled fresh ginger
3 t finely grated peeled fresh turmeric (optional)
2 eggs, beaten to blend
Directions:
Preheat oven to 350. Place the squash halves ,cut side down, in a baking dish with a water bath just covering the bottom of the pan. Bake for 35 minutes. Cool slightly and scoop out the inside flesh into a large bowl. Press the squash with paper towels to absorb any moisture.
In another large bowl, whisk flour through paprika to blend. Mix in squash, chile pepper, chili sauce, thyme, and cheese, then eggs.
Lightly butter or oil a griddle or heavy large skillet and heat over medium heat. Working batches and adding more oil/butter as needed, drop the squash mixture by scant ¼ cupfuls into the skillet or griddle. Fry until golden, about 4-5 minutes per side. Check after a few minutes and adjust heat accordingly. You may adjust amount of batter used to accommodate desired size.
Transfer pancakes to rimmed baking sheet. (Can be made 6 hours ahead. Let stand at room temperature. Rewarm in 350 degree oven until crisp, about 10 minutes.) These do freeze well, just make sure to place wax or parchment paper between them.