"Seven Layer" Truffles recipe
A sprinkle of coconut or graham cracker crumbs lets the receiver know what yumminess they'll find inside. They are almost too cute to eat, but after one bite they will disappear in an instant!
Makes: 36 truffles
Ingredients:
4 ounces (1/2 cup) unsalted butter, melted
2 cups graham cracker crumbs
1 (14-ounce) can sweetened condensed milk
1 1/2 cups packed shredded, sweetened coconut
1 cup mini chocolate chips
1/2 cup toffee bits, such as Heath or Skor
1/2 cup finely chopped pecans
8 ounces semisweet chocolate, coarsely chopped
2 teaspoons safflower oil
Instructions:
Graham cracker crumbs and shredded coconut, for garnish
Preheat oven to 350° F. Lightly grease an 8″x8″ baking dish and set aside.
Combine the butter and graham cracker crumbs in a mixing bowl and toss well. Add the condensed milk, chocolate chips, coconut, toffee bits, and pecans and stir until completely combined.
Transfer the mixture to the prepared baking dish and press to distribute evenly. Bake until lightly browned, about 25 minutes. While the dough is still warm, use a small spring-form ice cream scoop to shape individual balls (straight out of the pan) and place the balls on parchment-lined sheet pans. Refrigerate for thirty minutes until firm.
Melt the semi-sweet chocolate in a medium saucepan over low to medium-low heat (or in the microwave in 30 second increments) stirring frequently with a silicone spatula to prevent burning. Remove from heat. Stir the oil into the melted chocolate and transfer the mixture to a small bowl.
Using one hand, dip the balls in melted chocolate — you don't have to coat the flat bottom surface — and place on a wire rack set over parchment paper. Using your clean hand, sprinkle either graham cracker crumbs or shredded coconut over the truffles. Transfer the truffles to the refrigerator for 30 minutes to harden the shell. Remove from the refrigerator; truffles can be kept in an airtight container at room temperature for up to one week.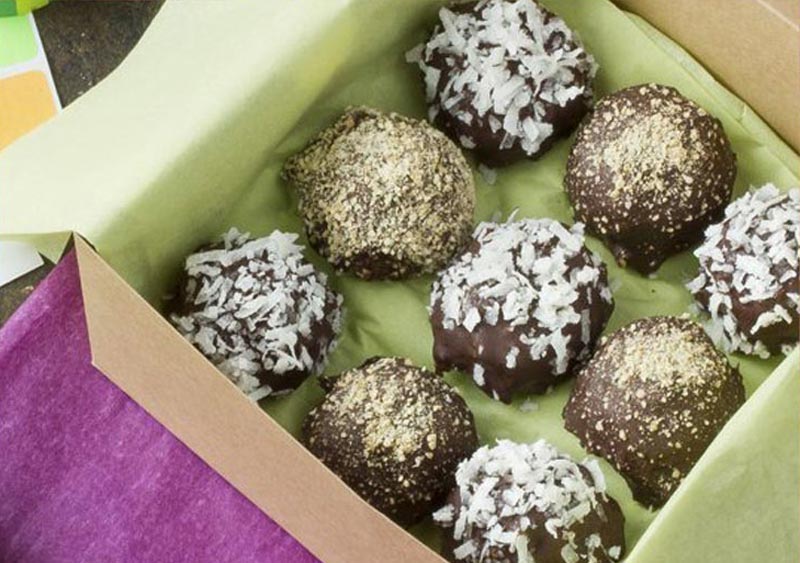 Source thekitchn.com