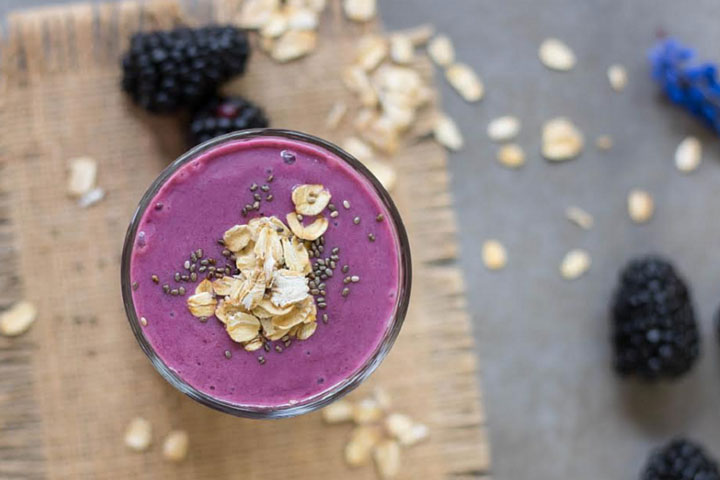 Benefits of this healthy morning treat:
The flavonoids in berries are being linked to more benefits all the time. In fact, the flavonoids found in blueberries and strawberries, for example, are shown to help prevent weight gain!
Greek yogurt is heavily strained so the liquid whey and lactose is mostly removed, causing a very tangy taste. The ones with vanilla in them – so tasty!
Live, active cultured yogurt is great for gut health, including immune function!
Bananas are filling and full of potassium!
Berrylicious Morning Smoothie Recipe
Ingredients
1/2 cup blackberries
1/2 cup blueberries
4 strawberries
1 banana
7 oz vanilla Greek yogurt
1/2 cup almond milk
Instructions
Wash all the berries and take the tops off the strawberries. Peel the bananas.
Put all the ingredients in a blender and process until smooth.
Pour into glasses and serve topped with granola if you desire. Chill leftovers in the fridge if you can't drink all.
Recipe Notes
You can also add raspberries if you wish. For the milk, you can use what you have – skim or soy milk. For non-dairy smoothies, substitute 1 cup rice milk for the milk and yogurt. Or, use soy yogurt or milk instead of dairy.
Source yummly.com