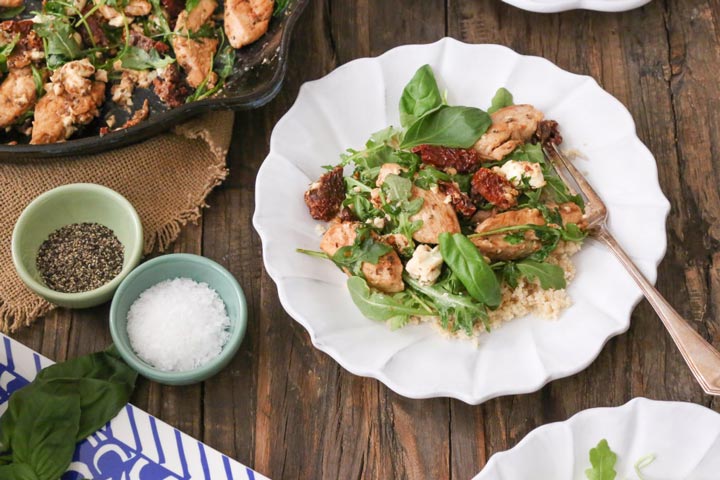 Chicken with Sun-Dried Tomatoes and Feta Recipe
Yield: 4 servings
Ingredients:
½ an 8-ounce jar sun-dried tomatoes packed in olive oil
1 tablespoon olive oil from the sun-dried tomato jar
4 garlic cloves, minced
1 pound boneless skinless chicken breasts
¼ teaspoon kosher salt
¼ teaspoon fresh ground pepper
2½ teaspoons dried oregano
4 ounces feta cheese, crumbled (about 1 cup)
1 packed cup baby arugula (optional)
¼ cup fresh basil, torn or sliced
Instructions:
Remove the sun-dried tomatoes from the olive oil and place them between two layers of paper towels. Press the tomatoes gently between the towels to get rid of excess oil. Chop the tomatoes and briefly set aside.
Slice your chicken breasts crosswise into thin strips (approximately ½" thick).
Heat 1 tablespoon olive oil from the sun-dried tomato jar in a large nonstick skillet over medium heat. When hot, add the garlic and cook, stirring constantly, until fragrant, about 30 seconds. Immediately add the chicken to the pan, along with the salt, pepper and oregano. Cook for about 10 minutes until the chicken is cooked through and lightly browned.
Add the sun-dried tomatoes and the feta, stirring to combine, and cook for 1 minute, just to warm the cheese and tomatoes through. Stir in the arugula if using, and cook for 1 minute until slightly wilted.
Divide the chicken among plates, garnish with fresh basil, and serve immediately.
Source domesticate-me.com