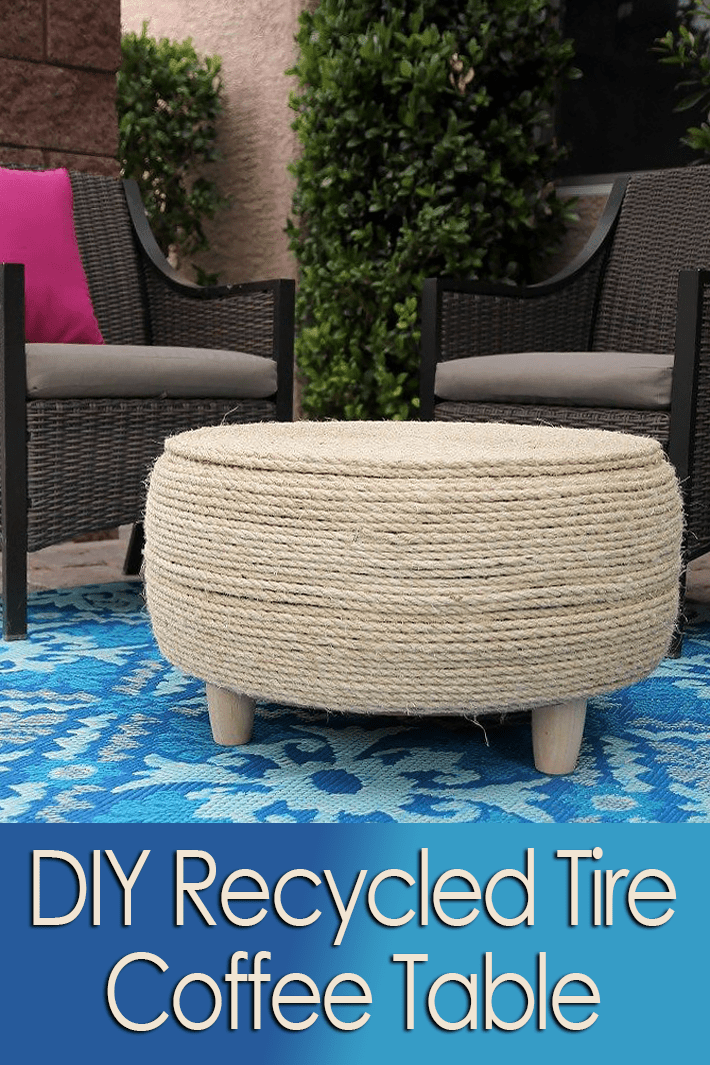 DIY Recycled Tire Coffee Table
When we were working on putting together our Outdoor Living Room Update, we really needed some kind of coffee table or ottoman to make the space work. It's kind of magical out a pretty coffee table can transform a collection of chairs into a living space. I wasn't sure if we wanted to buy or DIY, but when I remembered the recycled tire tables and ottomans I had seen floating around Pinterest, I thought it would be a great outdoor solution, so we gave it a go.
Luckily, my dad is a collector who specializes in old broken down Nissans, so coming up with a tire to recycle was pretty easy. The finished table looks great in our space and was fairly easy to put together, so I'm calling it a WIN.
It did not turn out exactly perfectly (you can see how the rope goes a bit wonky around the indents in the tire tread), but I think it's still pretty good. I thought about painting the feet and maybe the bottom few inches white or another color. What do you think? Should I go for a dipped look or leave as is?
I will go ahead and share our process for putting the Tire Coffee Table together even though there are already plenty of similar tutorials out there.
DIY Recycled Tire Coffee Table
DIY Recycled Tire Coffee Table – Easy and fun DIY project
Materials
1

Old Tire

1/2″

Plywood

(a 2'x4′ piece worked perfectly) (I actually used MDF, but plywood is better for outdoor use where it may get wet)

25-30

Screws

3

Furniture Feet

250

ft

Sisal Rope

3-4

Construction Adhesive
Instructions
The first step is to clean that tire off. Guys. Old tires are GROSS. This may be super obvious, but you do not want to be putting your hands all over a dirty tire. Plus all the dirt will make the adhesive less effective. So really hose that sucker off and let it dry before getting started.

Next use your jig saw to cut two round pieces of plywood the diameter of the tire.

Screw one piece of plywood on the top and bottom of the tire.

I only purchased three furniture feet, so I had to carefully measure out where to place the feet so they were evenly spaced. You could use four, but I thought I liked the look of three better, plus it was cheaper. When the placement of the feet was all measured out, we drilled holes slightly smaller than the screws on the feet and screwed the feet into the bottom of the table.

Ta DAAA! The base of the tire coffee table is all done!

Next up, we spent a couple hours with some rope and glue covering that all up. It's important to try to start your rope off in the dead center of the table top. We were a bit off, so the rope isn't wrapped perfectly, but it worked okay. Be sure to wear gloves with this adhesive. You will have to really hold the rope in place, especially for those first few tight rounds.
It was nice to have two people working on this because we could just pass the rope around to the other side. Just keep wrapping and gluing, wrapping and gluing, and pretty soon – you're done!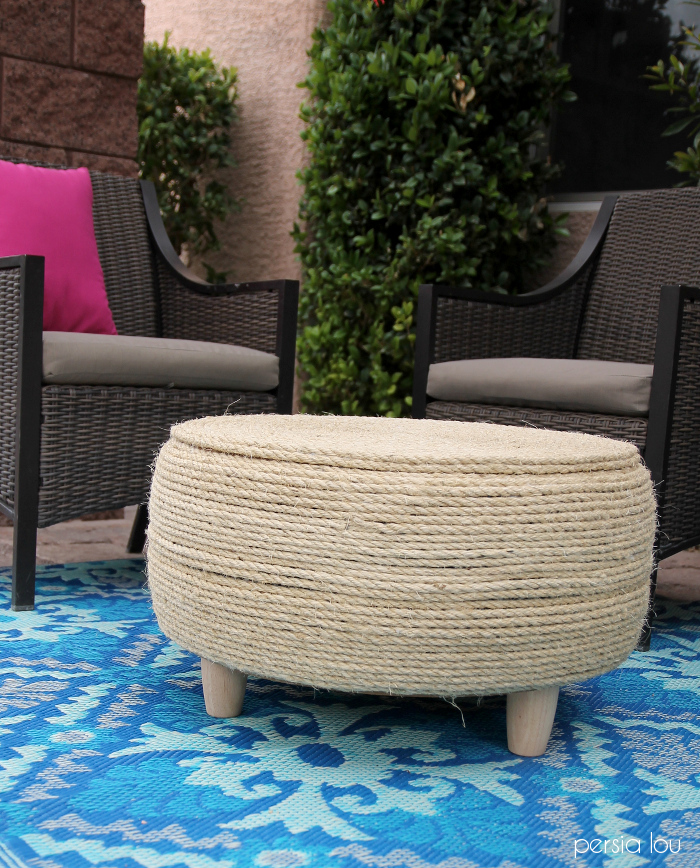 Our new tire coffee table is the perfect place to put your feet up and relax at the end of a hot Summer day. What do you think? Have you ever made any kind of recycled tire project? Is this something you would try?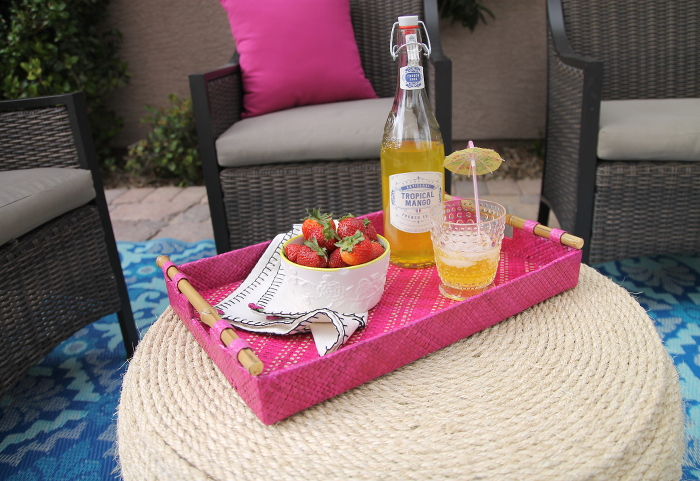 Related DIY projects
If you like this easy DIY tutorial, please give it a five star review and help me share it on facebook!
Please follow us on Facebook Page and enjoy our collection of recipes, crafts, fitness, health tips, gardening, DIY and more…
Source: persialou.com