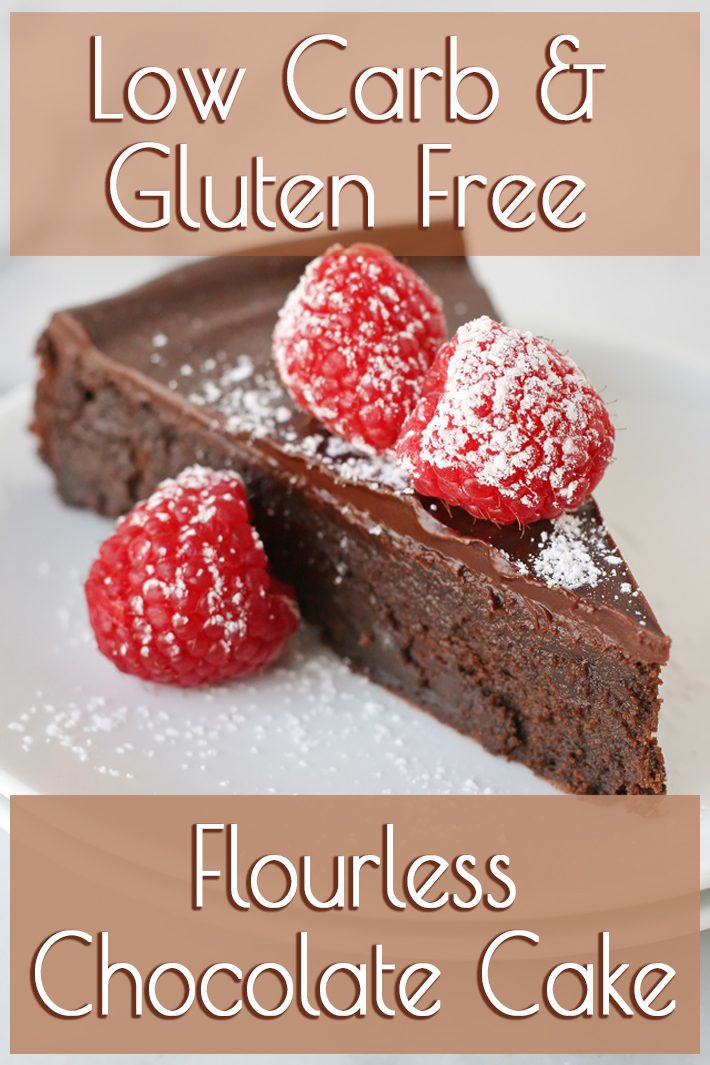 Made with almond flour, eggs, melted chocolate, pecans, and Swerve Sweetner, this flourless chocolate cake is an awesome guilt free finish to your meal. It's gluten free and Keto Diet friendly. Garnish with raspberries to give it a pop of red for Valentine's Day!
Flourless Chocolate Cake
                    PREP TIME: 15 min.  TOTAL TIME: 45 min.   COOK TIME: 30 min.
Ingredients
4 large eggs
2 cups Swerve Sweetener
½ tsp vanilla
Pinch salt
1 cup almond flour (not almond meal!)
½ cup cocoa
½ tsp xanthan gum
1 cup coconut oil, melted
4oz unsweetened chocolate, melted
½ cup walnuts or pecans, chopped
Instructions
Preheat oven to 325F and butter a 9-inch springform pan.
In a large bowl, whisk together eggs, Swerve, vanilla and salt together. Beat in flour, cocoa powder and xanthan gum until well combined.
Beat in melted coconut oil and melted chocolate until thoroughly mixed, and then stir in chopped nuts.
Pour batter into prepared pan and smooth the top with a knife or offset spatula.
Bake 30 to 35 minutes, until edges are lightly browned and center is just barely cooked through.
Let cool in pan 10 minutes, then run a sharp knife around to loosen, and remove sides.
Let cake cool completely before slicing.
Notes
Optional: Garnish with fresh raspberries or strawberries for an added taste treat!
                    CALORIES: 325Cal  FAT: 11g   PROTEIN: 5g  CARBS: 3g