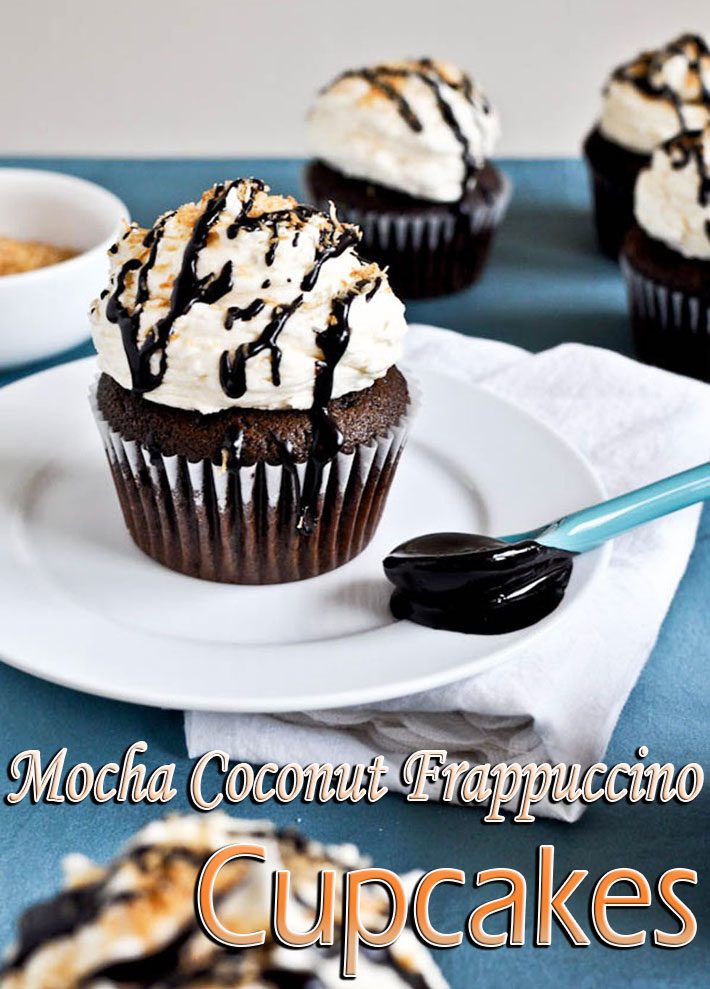 These toasted coconut flakes sprinkled on top give the perfect texture to these rich and luscious Mocha Coconut Frappuccino Cupcakes!
INGREDIENTS:
Mocha Cupcakes
1 1/8 cups all purpose flour
1/4 cup dark cocoa powder
3 tablespoons instant coffee powder
1 1/4 teaspoon baking soda
1/2 teaspoon salt
3/4 cup white sugar
1 egg
2 teaspoons vanilla extract
3/4 cup coconut milk
1/2 cup butter, melted
2 tablespoons sour cream
1/2 cup chocolate or cappuccino chips
Coconut Frosting
2 sticks of butter, softened (1 cup)
3 2/3 cups powdered sugar + more if needed
1 tablespoon vanilla extract
1 teaspoon of coconut extract (if you don't have this, no big deal)
1-2 tablespoons of lite coconut milk
1/2 cup shredded, sweetened coconut
1/2 cup shredded coconut, toasted
Mocha Coconut Drizzle
2/3 cup powdered sugar
1 teaspoon instant coffee powder
2 teaspoons dark cocoa powder
1-2 teaspoons coconut milk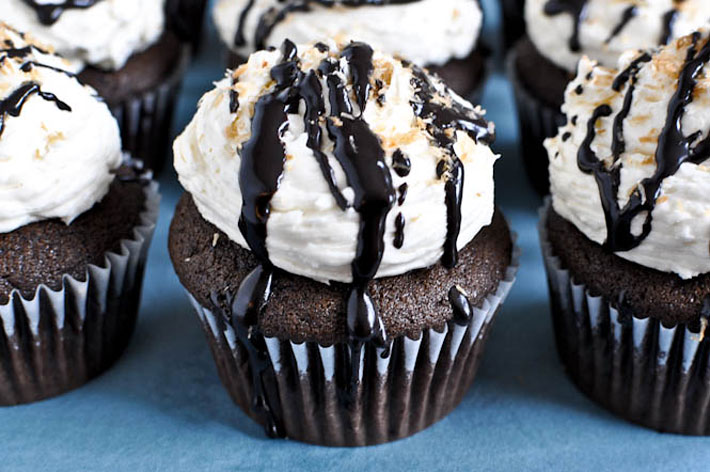 DIRECTIONS:
Mocha Cupcakes
Preheat oven to 350 degrees.
In a bowl, whisk egg and sugar until smooth and no lumps remain. Add milk, butter and vanilla, and mix until combined. Sift dry ingredients together and add to wet mixture. Mix until batter is smooth, then stir in sour cream. Fold in chocolate chips and mix. Line a muffin tin with liners and using a 1/4 cup measure, add batter to each cup. Bake for 15-18 minutes. Let cool completely before frosting.
Coconut Frosting
Cream butter in the bowl of an electric mixture until completely smooth and creamy. With the mixer on low speed, add in powdered sugar slowly. Gradually increase mixer speed and add vanilla and coconut extracts, then beat for 2-3 minutes, scraping down sides and bottom of the bowl. Continue to whip for another 4-5 minutes, continuously scrapping. If frosting is too thick, add coconut milk 1 teaspoon at a time until desired consistency is reached If it's too thin, add powdered sugar gradually until it thickens. Fold in shredded coconut and mix until just combined. Frost cupcakes, then sprinkle toasted coconut on top.
Mocha Coconut Drizzle
Combine dry ingredients in a bowl, then add in one teaspoon of coconut milk. Really mix to combine, as you want it to be glaze-like and easy to drizzle. If too thick, add a drop of coconut milk and stir again. If it accidentally gets too thin, just add a bit more powdered sugar and mix.
Source and images: howsweeteats.com