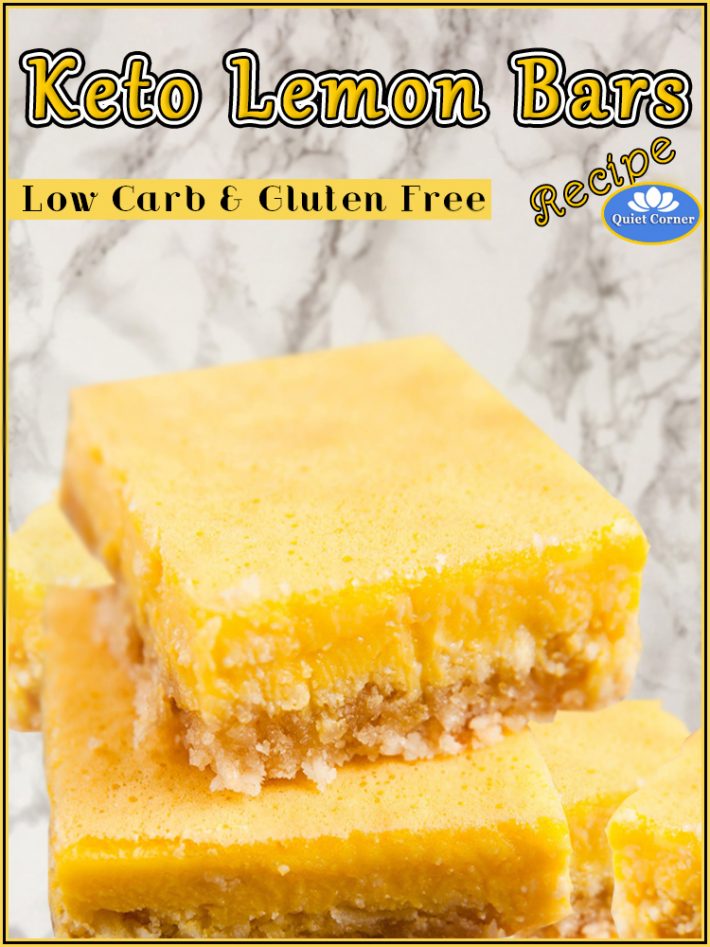 Keto Lemon Bars Recipe
These Keto Lemon Bars are low carb, gluten free and so delicious! I really love lemon bars! I can literally live by citrus based desserts, especially in the summer when they add that bit of much-needed freshness. If you're looking for some excellent low carb lemon bars you must try these Keto Lemon Bars!I am so glad I tried these, they are so close to the real thing and they really delicious. Great recipe!
Prep Time: 10 minutes | Cook Time: 38 minutes | Total Time: 48 minutes | Servings: 16 people
Ingredients for Keto Lemon Bars:
Crust:
3/4 cup almond flour
1/4 cup coconut flour
1/4 cup low carb sweetener
1/4 cup softened butter
Filling:
2 large eggs
1/2 cup powdered low carb sweetener
1/2 teaspoon baking powder
1/4 teaspoon salt
3 tablespoons lemon juice
1/4 teaspoon dried lemon peel
1 teaspoon grass-fed gelatin (about half packet)
1 teaspoon lemon extract
Instructions:
Pre-heat oven to 350 F.
Blend crust ingredients using a pastry cutter. Press crust into a 8 x 8-inch baking pan spayed with non-stick cooking spray.
Bake for about 18 minutes or until lightly browned. Cool slightly.
Beat the ingredients for the filling for about a minute then pour evenly over the baked crust.
Return to oven and bake again for about 15-20 minutes or until set.
Let cool at room temperature, cut into 16 even squares. Keep cool in the refrigerator.
Nutrition Facts:
Fat 6g
Carbohydrates 2g
Protein 2g
Calories 71
 

Please follow us on Facebook Page and enjoy our collection of recipes, crafts, fitness, health tips, gardening, DIY and more…
Source: Yummly